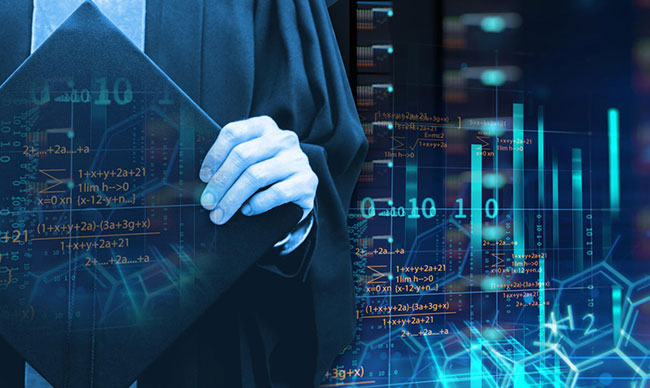 How do I pass the Cisco 010-151 exam?
LearnExam free to share the latest Cisco exam exercise questions and answers! 010-151 Exam Certifications "Cisco Certified Technician for Data Center"
You can find the free 010-151 pdf, 010-151 practice questions online test, and our recommended https://www.lead4pass.com/010-151.html (brain dumps). Pass the exam with ease! Online learning helps you improve your skills and exam experience!
Learnexam 010-151 exam catalog
Learnexam Cisco 010-151 video tutorial
Latest Cisco 010-151 exam pdf free download
[PDF Q1-Q12] Free Cisco 010-151 pdf dumps download from Google Drive: https://drive.google.com/file/d/1bm4eTLOYUDLNwO3rssd17Z6AxxhyzcII
010-151 DCTECH – Cisco: https://www.cisco.com/c/en/us/training-events/training-certifications/exams/current-list/dctech.html
The Cisco Certified Technician (CCT) for Data Center validates a technician's competency in the following areas;
Basic Cisco NX-OS configuration
Cisco Data Center products and hardware components with an emphasis on the Cisco Unified Computing System (UCS).
Latest Updates Cisco 010-151 Exam Practice Questions and Answers
QUESTION 1
After installation or replacement of a Cisco UCS C-Series Rack-Mount Server, the host does not boot. Which four
options should be verified? (Choose four.)
A. Verify the power source for the equipment.
B. Check for loose HDD cables.
C. Reseat the DIMMs, CPU, and PCI cards.
D. Verify that power supplies are receiving power.
E. Reseat the mezzanine card connector.
F. Check the CPU sockets for bent pins.
G. Check the Cisco IMC for fan faults.
Correct Answer: ACDF
QUESTION 2
What is the maximum number of supervisor modules that the Cisco MDS 9710 Switch supports?
A. 1
B. 2
C. 4
D. 6
E. 8
Correct Answer: B
QUESTION 3
Refer to the exhibit.

What is the name of this rack-mount server?
A. Cisco UCS C220 Rack-Mount Server
B. Cisco UCS C240 Rack-Mount Server
C. Cisco UCS C420 Rack-Mount Server
D. Cisco UCS C460 Rack-Mount Server
Correct Answer: C
QUESTION 4
What is the maximum distance that the 40GBASE-LR4 Ethernet standard can span?
A. 550 m
B. 10 km
C. 40 km
D. 80 km
Correct Answer: B
QUESTION 5
Refer to the exhibit.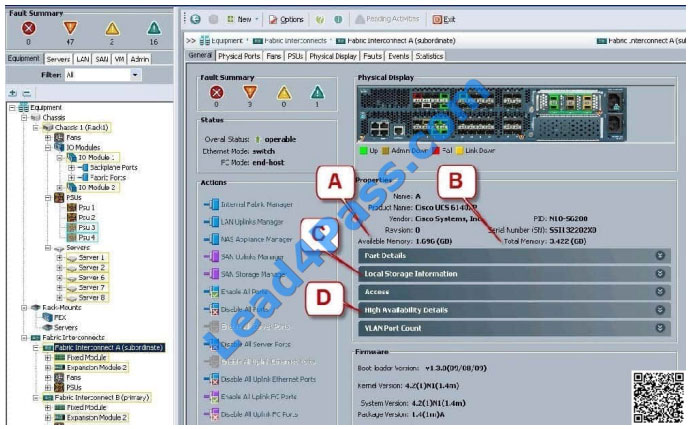 Where is the best place to see bootflash free space?
A. A – Available Memory
B. B – Total Memory
C. C – Local Storage Information
D. D – High Availability Details
Correct Answer: C
QUESTION 6
Which Cisco Nexus 5000 Series model supports 1/10G BASE-T ports?
A. Cisco Nexus 5548P
B. Cisco Nexus 5548UP
C. Cisco Nexus 5596UP
D. Cisco Nexus 5596T
Correct Answer: D
QUESTION 7
Which three troubleshooting procedures do you perform when there is no power to a Cisco UCS B250 M2 Blade
Server? (Choose three.)
A. Decommission and acknowledge the blade.
B. Check the back of the blade to ensure that there is no damage to the connection that goes into chassis.
C. Reseat the memory DIMMs.
D. Check the CPU sockets for bent pins.
E. Reseat the blade in the same slot in the chassis.
F. Move the blade to another slot in the chassis.
Correct Answer: BEF
QUESTION 8
Which action should the administrator take before physically removing a blade server for maintenance or replacement?
A. Force the server to shut down.
B. Disassociate the service profile.
C. Decommission the server.
D. Perform a graceful shutdown of the server.
Correct Answer: C
QUESTION 9
Which type of optics module is supported by a 12-port 100 GE Cisco Nexus 7700 F3 Series I/O module?
A. CPAK
B. QSFP+
C. SFP/SFP+
D. CFP
Correct Answer: A
QUESTION 10
Which command can be used to exit to EXEC mode from this current model?
switch(config-if) #
A. Ctrl-C
B. Ctrl-L
C. quit
D. exit
E. end
Correct Answer: E
QUESTION 11
Which fiber optic cable type is used most often with a Subscriber connector?
A. dual-mode
B. single-mode
C. straight-mode
D. multi-mode
E. subscriber-mode
Correct Answer: B
QUESTION 12
Which cable is used to access the command-line interface of a Cisco UCS 6120XP Fabric Interconnects?
A. KVM cable
B. console cable
C. Ethernet cable
D. SFP+ Ethernet transceiver cable
Correct Answer: B
QUESTION 13
Which important feature on the front end is provided to the clients by multiple servers that access the same storage
devices across the SAN?
A. recovery
B. redundancy
C. resiliency
D. security
E. storage
Correct Answer: B
Share lead4Pass Cisco 010-151 Coupon codes for free 2020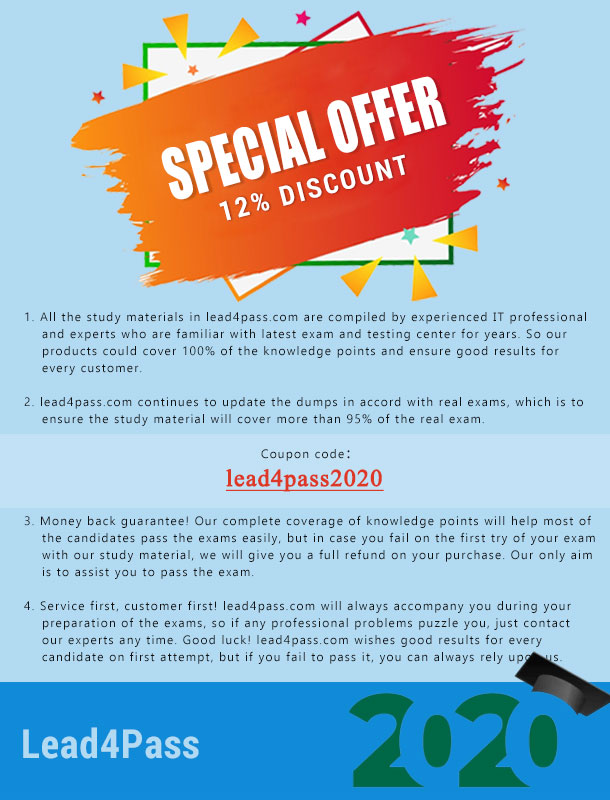 Lead4Pass Reviews
Lead4Pass has many years of exam experience! Help many friends pass the Cisco exam! Lead4pass year-round update exams are up to date and effective! The most authoritative examination certification expert! Highest pass rate!
Best price/performance ratio! Guaranteed to pass the first exam!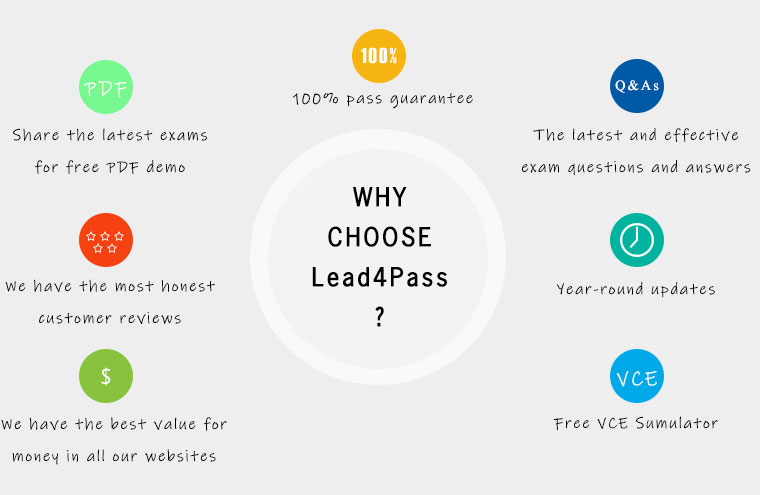 Cisco 010-151 Exam Tips Summary:
Cisco 010-151 is already the ultimate help here, we share the latest exam pdf, the latest online exercise questions! And the brand website recommends "Lead4Pass".
Latest update Lead4pass 010-151 exam dumps: https://www.lead4pass.com/010-151.html (136 Q&As)
[Q1-Q12 PDF] Free Cisco 010-151 pdf dumps download from Google Drive: https://drive.google.com/file/d/1bm4eTLOYUDLNwO3rssd17Z6AxxhyzcII